Parish Office
Volunteers
Help is needed to prepare large mailings, stuff bulletins, prepare worship aids, and other special projects.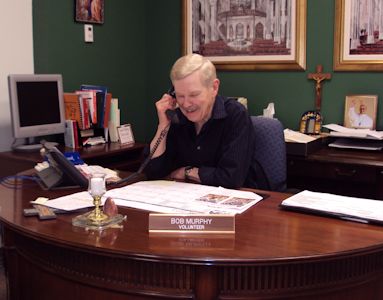 Tuesday Morning Office Volunteer Bob Murphy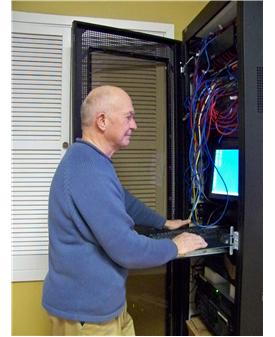 Technology Volunteer David Puckett
Volunteer Technology Professionals
In early 2005 three parishioners (Information Technology professionals) began exploring ways to improve the technical infrastructure on the Cathedral Campus.  The initial objective was to connect the Patterson Education Center via fiber optics to the Parish Office.  That effort evolved into building a network that supports multiple servers and desktop PCs, phone and voice mail systems, HVAC monitoring and control equipment, access control system and security monitoring systems, as well as security cameras in various locations.  Additional IT professionals have since become involved in volunteering their time and expertise updating and maintaining parish technology.  If you have a skill to contribute in this area, contact the parish office.