Social Concerns
The Cathedral of the Assumption embraces its unique role as a diverse urban parish and takes seriously the Gospel call to "do justice, love mercy, and walk humbly with our God" (Micah 3:6).  We have a rich and active Social Concerns Ministry that supports a variety of events and programs based on the principles of Catholic Social Teaching.
Community Outreach
Daily Lunch Program – Our Lunch program averages over 150 lunch guests per day, with over 330 volunteers making that possible throughout the year. Lunch is served daily 365 days/year. Please go to the Lunch Program web page.
Housing Initiatives – There are opportunities throughout the year for interested volunteers to participate in group projects such as Repair Affair, Habitat for Humanity, and Project Warm.
Special Collections – The Cathedral community responds to specific community needs that arise throughout the year. Examples of collections include: our annual hats and gloves collection on Thanksgiving for our daily lunch guests, needed baby items for Opportunities for Life and The Little Way Center, school supplies for Nativity Academy and for students of our Sister Parish in Haiti, Christmas gifts for Nativity Academy families, etc.  Social Concerns members coordinate these collections.
State ID Voucher Program – Twice each month, staff and trained volunteers meet with clients to ensure they have necessary documentation and provide vouchers for clients to receive a state ID. This id is necessary for those on the streets to be admitted to a shelter, to apply for a job, and to be eligible for other needed social services.  It is often the first step on the road to becoming self-sufficient.
Ask a Lawyer Hotline – sponsored by the Louisville Catholic Bar Association, (502) 509-2489, lcbalawyers@gmail.com
Pet Food Pantry – Those who live alone or on the streets often have close companions for the four legged variety.  This past year three young students helped establish a Pet Food Pantry.  Daily lunch guests can now get help with a meal for their pets. Donations can be dropped off each day 12:15-1pm in Sandefur Dining Room or, when attending weekend Masses, can be placed in the pet food drop off container in the lower level of church in the hall where the restrooms are located.
Organizations We Support:
St. John Center for Homeless Men
Central Louisville Community Ministries
Nativity Academy at St. Boniface
Global Outreach
Sister Parish Committee – The Cathedral of the Assumption and Cathedrale St. Louis Parish in Jeremie, Haiti began a sister parish relationship in November of 2000. The main focus of our sister parish relationship is the exchange of each other's gifts, talents, and spirituality. The Sister Parish Committee is actively responsible for maintaining high level of communication between the two parishes; working closely with the priest and parishioners of St. Louis to create awareness and identify issues of the Haitian people, support the St. Therese Montessori School lunch program, and help provide clean water, electricity, and health/hygiene training there.
The Jeremie area was devastated in the Fall of 2016 from Hurricane Matthew and recovery will be ongoing. Please click here for related stories. 
Moving Toward Oneness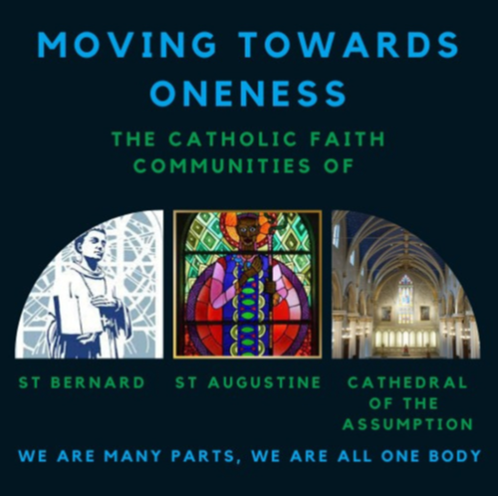 8 members of the Cathedral Social Concerns Committee have been participating with parishioners from St. Augustine and St. Bernard Parishes in a program of  the Archdiocese Office of Multicultural Ministry called Moving Towards Oneness. We have written this document to share some of our journey with you.  Click here to read.
Faithful Citizenship
Legislative & Public Affairs – Responding to our call to be faithful citizens, we learn about and develop action plans regarding issues of social justice. We work with local, state, and national public officials and educate the parish and public about community issues.  We work with Catholic Charities and the Catholic Conference of Kentucky to publicly advocate for issues linked to Catholic Social Teaching.
Respect Life – The "seamless garment is a metaphor for a consistent ethic of life, one which stands for the protection of the right to life and for the promotion of all the rights which enhance life, from the womb to the tomb." These words, from the late Cardinal Joseph Bernardin (1983), reflect our approach to life issues. We strive to respect all life from womb to tomb by adopting a consistently compassionate manner toward all persons who struggle with life issues and decisions.
If you have an interest in any of these areas, please contact Angela Wiggins, Director of Parish Life, 657-5213 or awiggins@cathedraloftheassumption.org.
Links to Cathedral Adult Formation Offerings
that deal with Social Justice Issues
White Fragility Book Study – Jan/Feb 2021
Presented by Fr. John Judie and Susan Sherman
History of Racism in the Archdiocese of Louisville
October 2020
Presented by Fr. John Judie and Annette Turner