Welcome
Dear Friends,
Greetings from the Cathedral of the Assumption!  On behalf of our parish staff, I wanted to pass along a message of prayer and goodwill to each of you in this uncertain time.  As many of you know, on Monday, March 16 the Archdiocese suspended all public liturgies in our local church until further notice.  Please know that I will be offering a private Mass each day during this period of time to honor our Mass intentions and to pray for each of you.  We will also be live-streaming a noon Sunday liturgy that you can find on the Cathedral website until public Masses resume.
Among other items of interest, please note that for the past several days the Cathedral church has been closed so that thorough cleaning can take place.  Soon we plan to reopen the church so that guests and parishioners can use the space for personal prayer and adoration.  We will let you know when this takes place.  You might also be interested to know that our Cathedral daily lunch program continues its mission.  In the interest of preserving a healthy environment for our guests, and to honor recommendations from the Center for Disease Control, we have decided to offer to-go meals to our guests from the alleyway entrance to the Sandefur Dining Hall for the present time.  Finally, please note that our Cathedral staff continues its daily work as well in an attempt to maintain our mission of service to the best of our abilities.
In short, our parish community has not disbanded or discontinued.  Though the manner in which we live out our ongoing identity finds itself in unique circumstances, we continue as members of the Body of Christ in prayer, service and fellowship.  None of us knew on Ash Wednesday that the Lenten season would invite us to into the particular sacrifices we face at present.  Still, we know that every year Lent is a seasonal expression of our willingness to accompany Christ through His suffering and death.  One way or another Lent will give way to Easter among us in good time and we will join together in worship in our beloved Cathedral as we have done so many times before.  In the meantime, keep up the good work and keep praying.  We will keep you updated going forward and you are always welcome to check for updates on the parish at www.cathedraloftheassumption.org or on the Archdiocese of Louisville at www.archlou.org.  Let me close with a one-line prayer from St. Philip Neri for each of us.  "Lord, let me reach the depths of today, and tomorrow will not frighten me."
Peace,
Very Rev. Michael T. Wimsatt, S.T.D.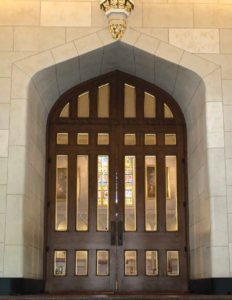 Hail, Full of Grace!
Cathedral of the Assumption
Legacy and Vision Campaign
Click to view video