Daily Lunch Program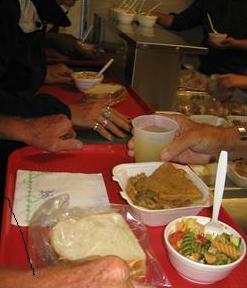 The Cathedral of the Assumption has served food to the needy since the Great Depression. During the 1930s cheese sandwiches were served from the front steps of the Cathedral Rectory. Later, this mission moved to the alley behind the Cathedral and bologna sandwiches were served from a fold-down hatch from the garage door. The alley became known as "bologna alley".
Our program has grown and in 2002, our kitchen received a gift from Brown & Williamson in memory of Thomas E. Sandefur Jr., a former Chairman & Chief Executive. This gift enabled us to renovate and modernize our facility. The Sandefur Dining Hall was opened on Jan 7, 2002, since then we have been a full service Health Department grade commercial-quality kitchen. Each day we provide a sustaining lunch meal, which usually consists of homemade soup, a bologna sandwich, dessert, and a drink. We now serve an average of 140 homeless and low-income individuals each day between 12:15 pm and 1:00 pm. And each month, approximately 300 volunteers donate their time and talent to our daily lunch program.
Four days a week, Peggy McCarty is on hand mingling with our luncheon guests and she often is able to refer them to other social service agencies that may be of help for their individual needs. "Ask a Lawyer" is available initially by phone with attorney and Cathedral Parishioner Chuk Obiechefu, 502-309-2512,  for our lunch guests who may have legal issues.  Four days a week, Joe Best  is on hand to welcome guests and serve as Social Services Coordinator. Our parish health nurse, Delena Harris, and other volunteers offer health education and referrals.
Community Partners
Our lunch program would not exist without the support of countless volunteers and partners.  Many of our volunteers are employed by Humana, Kindred, Brown Forman, Actors Theatre, Hilliard Lyons, Louisville Legal Secretaries group, Learning House, Biotap Medical, Invesco and other professionals from the downtown area.
Vincenzo's Restaurant has for many years made a tradition of providing a delicious Thanksgiving meal to our Daily Lunch Program guests on the Tuesday before Thanksgiving.  We sincerely thank Augostino, Vincenzo, and the entire restaurant staff for their generosity!
Dare to Care Food Bank provides us with meat and other foods.
Garden Gate Fruit Market donates vegetables and fruit.
Panera Bread Company donates day-old bread and desserts once a week.
Paul's Fruit Markets donate vegetables and fruit.
Donations
Monetary donations can be mailed to the Cathedral. Please specify that you wish your donation to go to the Daily Lunch Program. Supplies can be donated by checking out our Kitchen Wish List or by contacting Paul Tadatada, Lunch Program Coordinator, at 502-582-2971.
Volunteers

Daily lunch program volunteers assist with the following:
Preparation and processing (peeling, chopping and slicing) of donated vegetables, fruits, and desserts.
Make sandwiches
Serve the meal
Wash dishes and clean
Our program does not allow for drop-ins. All volunteers must be scheduled ahead of time.
Volunteers must be 14 years of age or older.
If you would like to get involved, please contact Sharon Horn, Volunteer Coordinator, 502-657-5229 or shorn@cathedraloftheassumption.org.
If you are a registered volunteer please remember to:
Wear appropriate and comfortable clothing, including closed-toed shoes, no sandals or flip-flops, no tank tops, shorts must be at least mid-thigh length, and no jewelry.
Bring a ball cap or something to cover your hair.
Keep valuable items (purses, cell phones, wallets) in your car or someplace safe. We are not responsible for lost or stolen items.
Find street parking or use PARC parking garage located directly north of the Cathedral on 5th
The kitchen entrance is located off the alley behind the Cathedral. You can access this alley off Muhammad Ali Boulevard or by walking between the Cathedral and the parking garage. The kitchen is labeled as "Sandefur Dining Hall" and has an awning over the door.