History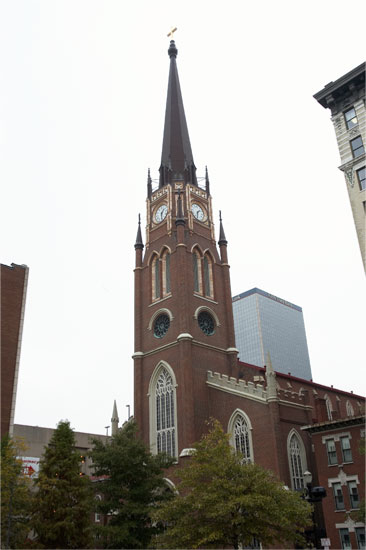 The grounds upon which Louisville's Cathedral of the Assumption stands were consecrated in 1830.  The seat of our first Bishop, Father Benedict Joseph Flaget, moved from Bardstown, Kentucky, to Louisville eleven years later in 1841.  Located on the site of the old St. Louis Church, the Cathedral is designed in Neo-Gothic style by William Keeley and Isaiah Rogers, two of America's finest 19th century architects.  Completed in 1852, it is the fourth oldest public building in the city of Louisville as well as the third oldest Catholic Cathedral in the United States in continuous use.  The steeple rises 287 feet above the Louisville skyline and, upon its completion, was North America's tallest spire.  The Coronation window is one of the oldest surviving examples of hand-painted stained glass in the country.
The Cathedral has been the scene of many tumultuous events during its long history.  August 6, 1855, a day now referred to as Bloody Monday, saw riots brake out after accusations of election irregularities.  The Know-Nothing political party feared that immigrants and Catholics would interfere with the voting process.  Rioters came armed to the Cathedral looking for weapons, but after a search of the premises, none were found.
During the Civil War, the church was the scene of services to honor the fallen of both sides, the Blue and the Gray.  In 1937, a great flood found much of the center city of Louisville under water.  The Cathedral served as a refuge center for those forced from their homes.
The center of America's oldest inland diocese, the Cathedral of the Assumption is a vibrant Catholic parish.  Clergy and staff serve the needs of the 3,000 registered parishioners through worship, music, spiritual formation and hospitality.  Staff and volunteers provide lunch daily to the homeless, carrying on our mission of striving for social justice.  The Cathedral of the Assumption will continue this rich tradition long into the future.
New – January 2015
Archbishop Joseph E. Kurtz and Chancellor Dr. Brian Reynolds travel to the Cathedral of the Assumption to talk about the meaning of the Cathedral to the Archdiocese and to discuss highlights of the art and architecture of the Cathedral.
See the conversation – Archbishop Kurtz and Brian Reynolds
Archbishop Joseph E. Kurtz visits the Archdiocese of Louisville History Center and takes viewers on a brief tour, along with archdiocesan historian Fr. Clyde Crews and archdiocesan archivist Fr. Dale Cieslik.
See the tour and conversation – Archbishop Kurtz with Fr Crews and Fr Cieslik