Blue Mass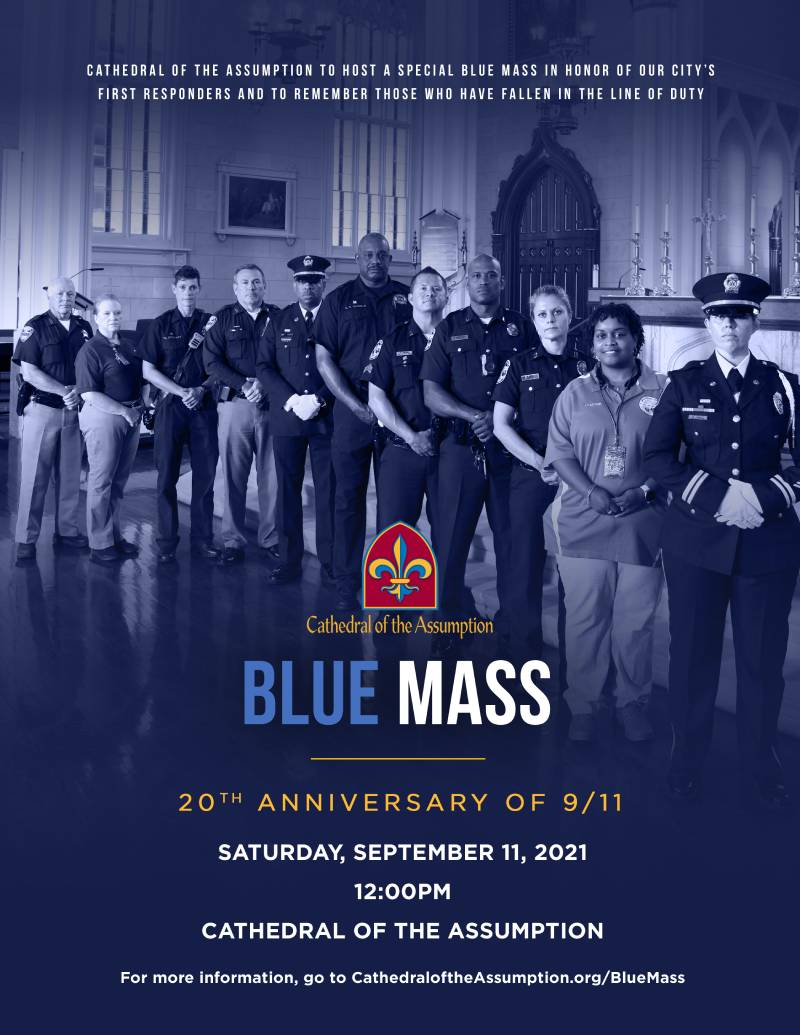 Date: September 11, 2021
Time: 12:00 P.M.
Location: Cathedral of the Assumption
Address: 433 South Fifth Street
Louisville, KY 40202
There is no need to RSVP. This special mass is open to all. Seating is limited.
Cathedral of the Assumption will Honor Local First Responders & those Killed in the Line of Duty with a Blue Mass on the 20th Anniversary of September 11
In a time where our nation is in need of healing, the Cathedral of the Assumption and local first responders will come together for a Blue Mass on Saturday, September 11 at 12:00 p.m. Representatives from the Louisville Metro Police Department, Louisville Fire Department, Louisville Emergency Medical Services and the Jefferson County Sheriff's Office will give thanks for the work of current and former first responders. They will pay tribute to lives lost in the line of duty.  The service is open to all faiths and will be held at the Cathedral of the Assumption, 433 South Fifth Street. 
The Most Reverend Joseph E. Kurtz, Archbishop of Louisville, will preside over the Blue Mass. The special service has become a nationwide remembrance since its inception in 1934 in Washington, D.C. Louisville will host its event on the 20th anniversary of the September 11 attacks in Washington D.C., New York, and Pennsylvania where hundreds of first responders' lives were taken. "We will always remember with deep sadness the loss of so many lives 20 years ago today," said Louisville Mayor Greg Fischer. "Our first responders take risks and make sacrifices each and every day as they strive to keep our community safe. It is my honor to join with the Cathedral of the Assumption and our local first responders to pay tribute to those who have fallen in the line of duty." It was just last month that our community was shaken by the murder of Jefferson County Sheriff's Deputy Brandon Shirley. He was ambushed off-duty. In 2018, LMPD Detective Deidre Mengedoht was hit and killed during a traffic stop on Christmas Eve. LMPD Officer Nick Rodman died in 2017, while responding to a domestic incident. Also in 2017, LFD mourned the loss of Sergeant Tim Groft, who served 15 years with the department.
"The Blue Mass allows us to honor heroes in our community – the women and men who put themselves in harm's way daily to serve, protect, and defend us," said Maggie Cyphers, Director of Worship at the Cathedral. "As members of a servant church, it is only fitting that we recognize the extraordinary dedication to the public servants who quietly exemplify the noblest virtues of our faith.
In keeping with the solemnity of the occasion, drum corps and bagpipe players from all first responder agencies will be on hand. Hymns will be played in addition to the revered Taps, frequently played at funeral and memorial services. An honor guard will also perform ceremonial duties. 
However, this will also be a day of honor and pride. Beginning at 11:00 a.m., South Fifth Street will shut down between West Muhammad Ali Boulevard and West Liberty Street for a display of police wares including a helicopter, fire engines, ambulances, and even mounted police. The street will remain closed until approximately 2:00 p.m. The public is invited to greet first responders, learn about their professions, and thank them for all they do.
Agencies interested in participating in the event should contact Maggie Cyphers at (502) 657-5222 or mcyphers@cathedraloftheassumption.org.
About the Cathedral of the Assumption
Founded in 1830, the present Cathedral of the Assumption was dedicated in 1852 and is the fourth oldest public building in the city of Louisville as well as the third oldest Catholic Cathedral in the United States in continuous use. The Cathedral maintains a rich tradition of religious identity and civic consciousness with a reach both far and wide. Parishioners from 27 counties in Kentucky and Indiana call the Cathedral home. For more information, visit: www.cathedraloftheassumption.org.