Undercroft/Chapel of Bishops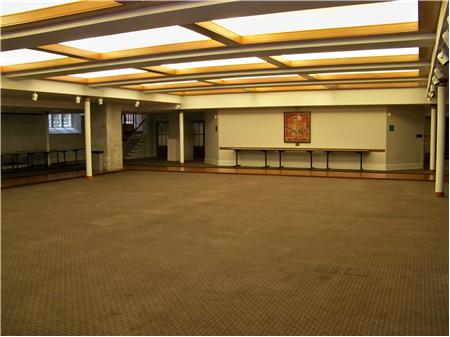 The Undercroft is located in the basement of the Cathedral church. The main room was used as the worship space for the parish during the 1994 renovation. Currently, the Undercroft is used for parish gatherings, meetings, wedding receptions and diocesan events.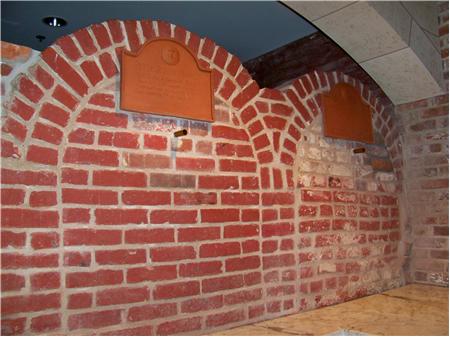 The Chapel of the Bishops is located through the Undercroft toward the rear of the building. The chapel contains the raised tombs of Bishop Benedict Joseph Flaget (1763-1850), the first bishop of Bardstown and Louisville, and Peter Joseph LaVialle (1819-1867), third bishop of Louisville. The chapel was built around the existing tombs durring the 1994 renovation.
Bishop Flaget's tomb is on the right and Bishop LaVialle's tomb is on the left.
The plaque in the Chapel of the Bishops is a replica of the original that was mounted by the tomb of Bishop Flaget.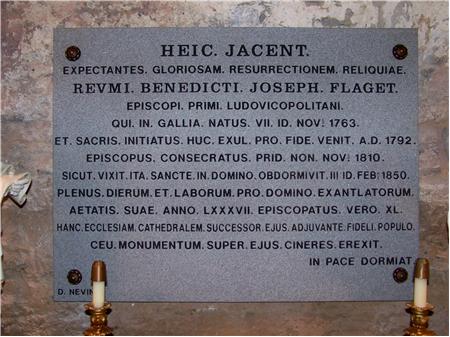 Translation
HERE LIE,
AWAITING A GLORIOUS RESURRECTION,
THE REMAINS OF THE
RIGHT REV. BENEDICT JOSEPH FLAGET,
FIRST BISHOP OF LOUISVILLE,
WHO WAS BORN IN FRANCE ON THE 7TH OF NOVEMBER , 1763
AND HAVING BEEN THERE ORDAINED PRIEST,
CAME HITHER AN EXILE FOR THE FAITH
IN THE YEAR OF OUR LORD 1792.
HE WAS CONSECRATED BISHOP ON THE 4TH OF NOVEMBER, 1810.
AS HE LIVED, SO HE DIED, HOLILY IN THE LORD,
ON THE 11 TH OF FEBRUARY, 1850.
FULL OF DAYS AND LABORS UNDERGONE FOR CHRIST,
IN HIS 87TH YEAR, AND OF HIS EPISCOPATE THE 40TH.
HIS SUCCESSOR, WITH THE HELP OF THE FAITHFUL PEOPLE,
ERECTED THIS CATHEDRAL AS A MONUMENT OVER HIS ASHES.
MAY HE SLEEP IN PEACE!